Universities worldwide welcome DefaultVeg. Together we can keep campus—and the planet—cool. Join in!
The college years—a time for innovation, experimentation, and imagination. On-campus living presents a special opportunity to reimagine systems and pilot novel ideas. At uni, students can subvert society's status quo and pursue initiatives that might elsewhere be dismissed as utopian. Repair cafes, ride shares, and grassy rooftops have all popped up on university campuses in the name of sustainability.
One of the most powerful solutions colleges have embraced is revamping dining halls. Working with food service providers, students can change food procurement to reflect their values, using locally sourced produce to lessen food mileage or eliminating pork products with consideration for Jewish and Muslim students. At Northwestern University, students opted for a tried-and-true revolutionary tactic: DefaultVeg. In 2022, the school's student government passed acting legislation that includes a 70% plant-based requirement, and relies on proven behavioral nudges such as opting into animal-based products at catered gatherings and presenting animal-based products last at buffet-style events. All-you-can-eat settings provide an especially ripe opportunity for DefaultVeg. Our research suggests that DefaultVeg more than doubles the amount of plant-based food eaten. Across three different universities, we found that while only 26.9% of dishes served were plant-based on control days, on DefaultVeg days, 57.6% of dishes were. No wonder Northwestern has so eagerly harnessed the potential.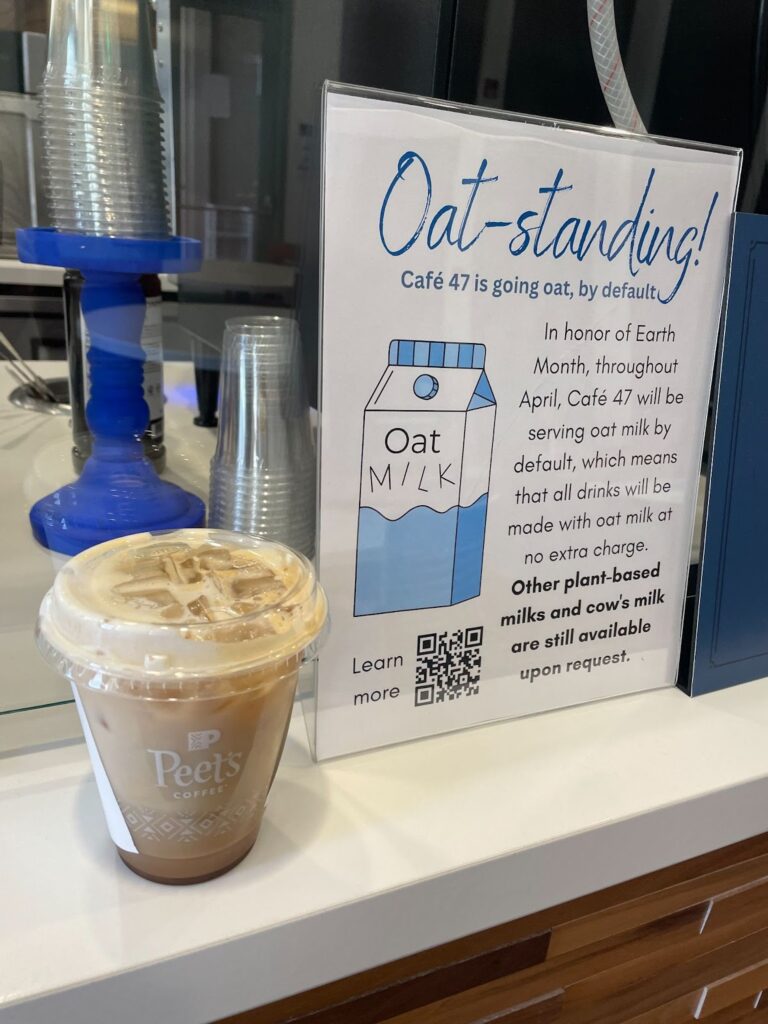 Pomona College's Cafe 47 used oatmilk by default in April 2023 in celebration of Earth Month, thanks to a partnership between the Better Food Foundation and New Roots Institute fellow Hannah Hughes.
Northwestern is far from alone. New York University has also welcomed DefaultVeg with open arms, adopting plant-based defaults in its student government and in the Office of the Provost. That's right, it's not just students but also administrators who recognize the transformative potential of plant-based defaults. NYU's Office of Sustainability also went DefaultVeg, curbing the school's emissions through plant power, following in the footsteps of Harvard's office of sustainability. Meanwhile on Pacific Time, Western Washington University's College of the Environment has gone DefaultVeg for the planet, while University of San Diego and Pomona College both opted to focus on coffee, making lattes and cappuccinos with oatmilk by default.
The plant-forward food wave doesn't stop at U.S. borders. Oxford, Copenhagen, and the University of Victoria have all embraced plant-based defaults in one way or another, as it should be: movements are built in community, and we all share the same planet. With just a few simple changes to our cafeterias and dinner plates, we can make a sizable dent in greenhouse gas emissions. Transforming our food system is a cooperative effort, but luckily, plant-based food includes—and benefits—everyone.
Regardless of degree, discipline, or continent, universities around the world see the value in reimagining food norms. Any campus can go DefaultVeg! To help bring your school into the plant-forward future, sign up for our advocacy toolkit. Together we can keep campus—and the planet—cool.